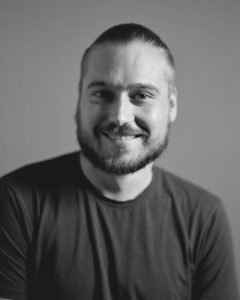 Toby Tomkins is CHEAT's founder and a senior colourist.
He has a deep impassioned interest in colour and film emulation. Much of his energy and time is invested in research and development, with all efforts consistently focused towards enhancing emotion and story: Everything in service of the work. Always. This fascination – nay, compulsion! – has led Toby to develop unique tools and techniques which directly contribute to the success of his clients' creative projects. He regularly collaborates with globally respected, multi-format directors and DoPs who are the best in their field.
Over a decade of experience has earned him high-profile commercial clients; from BMW and Land Rover to Lloyds and Amstel, as well as a significant role in award-winning TV shows like the hugely successful BAFTA winning, Emmy nominated Netflix/Channel 4 series 'The End of the F***ing World', Channel 4's 'We Are Lady Parts', and BBC/AMC's critically acclaimed 'This Is Going To Hurt'.
Toby also has an extensive portfolio of short and feature films, including 'As I Am' (in cinemas now!), BIFA-winning 'The Machine', and 'Stutterer' which won the Oscar for best short. His other recent and notable projects include commercial work for Porsche, Cadburys and McDonald's, with some very exciting projects coming up with the BBC, AMC, Netflix and FX.