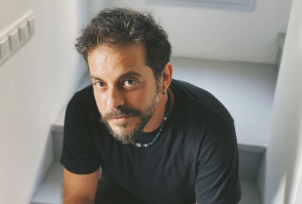 Ahmet was born in Ankara, Turkey. He was studying Business in Bilkent University and was a fierce member of the Turkish National Ice Hockey Team, when he started to shoot stills and make short films. He completed his under graduate degree in University of Odense, Denmark, and studied film at Central St. Martins in London, before moving to Brooklyn, New York. Once stateside, he further studied filmmaking and started working on all levels of production, like every other New Yorker. Nowadays, he is based in Istanbul, happily married with a child. He is well traveled and has shot films in several countries and continues to commute back and forth between Turkey, Europe and US to shoot features, streaming series and documentaries.
You are a judge for the 2023 FilmLight Colour Awards. What are you looking for in the entries this year?
One would assume that consistency, craftsmanship and creativity will be present as they are all final entries of such a specialised award. Above this, I'd love to see originality and personality.
Can you tell us about your relationship with colour and if/how this has changed over the years?
I consider myself lucky to be a part of a transitional generation, witnessing the shift from a photochemical process to digital capture, and different stages of 'printing'. I started out exposing film, but the digital process was already in place. Even though I didn't have to professionally utilise the old-school printer lights to finish a motion picture, I was lucky enough to learn the skill.
To be honest, I still think, conceive, plan, expose, treat (if necessary), and grade with an analogue mind-set. Yet, I utilise every single tool that's up-to-date to my best knowledge and within my reach – as long as we believe it helps the text to come across to its audience.   
How did you start your career as a cinematographer?
I spent a good chunk of my early life in darkrooms printing my own black and white photos. Then I moved to New York, assuming I'd find my way and support myself to becoming a writer/director. Due to my affection with photography, I found myself acting like a director of photography for student films. Along the way, I have met a countless number of great and very talented people. I'm not sure if I still want to write or direct, and I have a long way to go to become a great cinematographer.   
What are you most proud of about your career to-date?
My choice of career. I love what I'm doing and the people I get to meet along the way.
Can you tell us about your work on the film 'Four Cornered Triangle' which won 'best cinematography' at the Kayseri Film Festival in 2018?
Four Cornered Triangle is a very special collaboration for me. The director, Mehmet Gureli, is a very old and dear friend of mine. He's a multi-talented and accomplished person. He paints, writes, sings and makes movies and documentaries  – and gets awarded and paid for each of these, too. A man from another century. He has a gift to see my best version as a cinematographer and brings that out.
Four Cornered Triangle was a true no-budget film in every sense. However, I would like to believe that it doesn't feel that way at all. It was a beautiful experiment. I sincerely hope that I will have another chance to produce more work with Mehmet Gureli.   
How did you approach the black and white look and the dip of colour towards the end of the film?
After never ending conversations on black, white and grey, we inclined towards a tonal black and white image with full detail within the greys, within our capabilities. We wanted to accomplish this in a compressed curve – 'not too deep' blacks and creamy whites. However, we didn't want to compromise on the contrast. That, we had to achieve with the locations, costume, make-up, staging and timing. It was mostly found and shaped light. The camera (Sony F55) and Zeiss Higspeed lenses were both donated and a true blessing for our cause. We shot few camera tests and opted on capturing with colour and view with a pre-graded LUT on-set.
As for the colour part of the film, Janó Fekete – another dear friend and a very gifted colourist – and I were working in the suite when Mehmet Gureli walked in and asked us if we'd like to make the 'dream' sequence of the film in colour. Neither of us thought that any part of the film would be in colour. We didn't know there was a 'dream' section of the film, either. Both passionate photographers, we started to experiment with cross processed positive looks. Mehmet, who is a painter and doesn't shy away from colours and uses them masterfully, was super encouraging and knew what he liked immediately.
Can you tell us about the look on the episodic 'Alef' which was listed among the 15 Best International TV Series of 2020 by Variety?
This was another wonderful collaboration. The series director, Emin Alper, is an outstanding storyteller and a great teacher. We both knew the feel we wanted for the series. We started out shooting camera/lens tests together and viewed them blind (with no labelling), to avoid any biased opinion. It was a wonderful experience to agree on a sensor and a glass so smoothly. Following that, we shot even more material with full support of our production, costume designers and make-up artist, and we worked with a pre-graded LUT on-set.    
How do you think colour shapes the way an audience perceives TV/film?
This is a very curious and complex subject. To answer this question pragmatically; all my experience tells me that the audience is a 'beast'. They're well programmed and equipped to tell the good work from the bad. This is also true for the colour process. However, the choices they make when it comes to selecting what they're going to be subjected to seems to be another question.
As a cinematographer, at what point do you usually/like to begin discussing colour?
As soon as I'm committed to working on a visual project, I like to know who I'm going to be working with as a DIT and colour artist. Right after we start talking to the director and production designer (and in some cases, producer), I like to introduce all these people's ideas to each other. Then through initial camera tests I add the trusted and valuable ACs and operators to the mix. From here, we like to create pre-graded camera/lens specific LUTs that become. a standard for the whole production and post pipeline – and eventually the look of the project. I never find this 'pre-determined' process to be limiting at any stage, as long as it's well collaborated on and communicated. On the contrary, it leaves a lot of time and resources for improvement in the post.
In your eyes, what defines a good colourist?
To top up all the qualities mentioned in my first answer, curiosity and perhaps some courage. Methodology is also important. I adore watching people achieving the difficult with simple, logical methods.
Can you talk us through your involvement in choosing and implementing a colour palette for a specific scene/film?
Prepping a Netflix show titled The Club, I suggested to remove the primary blue from the visual bible of the series, which worked out well for season one. We knew we were going to go for a magenta look with certain cold (cyan) tone in certain shadows. We evolved the idea after a series of camera tests. Removing the blue in that season gave it a unique look. It was a very satisfying process with lots of commitment from a great creative team.