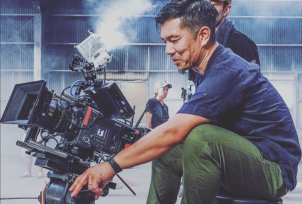 Takuro Ishizaka is a cinematographer based in Los Angeles, California and Tokyo, Japan. Originally from Kawasaki City, Japan, he grew up in a family of director and writers, which naturally sparked his interest in the production business. He graduated from Chapman University, where he specialised in cinematography.
Renowned for his work on the entire "Rurouni Kenshin" series, now available on Netflix, Takuro Ishizaka has breathed new life into the realm of traditional Japanese samurai films. Through his captivating cinematography, he has skillfully showcased mesmerizing movement and aesthetics. This series stands as a testament to the successful adaptation of manga and anime into live-action films, with all five movies securing the top spot at the box office in Japan and various Asian countries.
His passion and expertise in the latest camera technology and post-production have led him to collaborate on product launches, including Canon C500, Panasonic Varicam, Zeiss Radiance, DJI Ronin 4D, and Red Komodo.
You are a judge for the 2023 FilmLight Colour Awards. What are you looking for in the entries this year?

I'm thrilled to be part of the process this year. It's a new experience for me as well. I'm excited to encounter many captivating images that will ignite my imagination. I aim to discover images that convey emotion and mood through skillful colour grading, as well as the careful selection of the right palette during the shoot.
Can you tell us about your relationship with colour and if/how this has changed over the years?
Colour has been the way to express mood and emotion, also to draw attention of eyes to what we intend to show. Sometimes less colour is more and sometimes more colour is better. There are many choices to make to reach the best possible combination of contrast and saturation to express the story.
You are renowned for your work on the Netflix movie Series 'Rurouni Kenshin' which is an adaptation of a manga series. How did you approach the look?
For this series I focused on maintaining vibrant colours. As it was a live-action film based on manga, I aimed to go beyond the traditional samurai film aesthetic. My goal was to infuse a Western-style colour palette into the visuals while preserving the richness of colours. I consciously avoided losing saturation and instead incorporated complementary colours in the mid- to high-tones, and occasionally subdued undesired colours in the shadows. This approach allowed me to introduce a touch of unreal colour and capture the essence of the manga in the live image.
How long was the grade?
We were a low budget production at the time and part one of the grading was done in seven days. Seven days in Japan was not short, but it was a very hard process. Almost a horror story.
There was no concept of a colourist in Japan at the time. We were considered to be more of an operator ­– there to control the machine, not the art. Therefore, I had to instruct what to do from log image to begin at day one. It was a very hard process and the machine had just moved from 16bit to 32bit, so we had the additional challenge of it crashing many times during the grading.
I had a colour timer for the film process at the time because we were still making a print. He was very helpful with grading, too – I could not have finished the film if I did not have him in the room.
Thankfully, Japan now has many colourists and I do not have to repeat this process again. We have all become much more advanced with colour over the last 10 years.
As a cinematographer, at what point do you usually/like to begin discussing colour?
We usually need to start discussions about the palette in the early stages, ideally from the start of pre-production. The visual concept needs to be discussed to make a better collaboration with set, wardrobe, make-up, and hair. Helping to create the look without forcing the image too much in the post process is key.
If there is not much time in pre-production, we sometimes need support from powerful grading software or VFX to achieve the visual goal. However, if you can get there without this, and just rely on digital techniques as a supplement, it is the ideal way to achieve a better image.
In your eyes, what defines a good colourist?
For me, a good colourist is someone who can show the choices rather than just talk about it.
What are you working on now/next?
I just finished the post process for the Amazon Japan movie that was a co-production between Japan and Korea.  I am now getting ready to walk into the new drama series from Netflix Japan, which I will start to shoot around the end of September.  I am also getting ready for a movie in US, from March 2024.