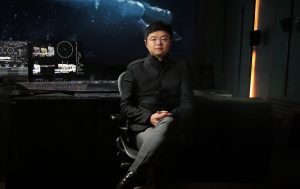 Ma Ping serves as Deputy General Manager of the China Film Studio, Vice Chairman of the Working Committee of Film and Television Bases of the Chinese Film Association (CFA), Deputy Director of High Technology Committee of the China Society of Motion Picture and Television Engineers (CSMPTE), Member of the Committee for Science and Technology Communication and Film and Television Integration of the China Science Writers Association (CSWA), and Council Member of the Chinese Society of Cinematographers (CSC). 
Ma Ping has participated in more than 200 films as director, producer, visual director, supervising colorist, etc. Starting from 2000, he has established from scratch and has improved the digital production system for Chinese cinema as a leading member. Ma Ping has won many domestic and international awards for his works, cited many times for his dedication by the Publicity Department of the CPC Central Committee, the institutions directly under the CPC Central Committee, and SARFT, and thus he is known as "China's No. 1 Colorist". With years of in-depth involvement in film and television technology, Ma Ping has led the development of China Film Sense AI Image Processing System, which achieved the resolution enhancement from standard definition to 4K for the first time and won the China Radio, Film and Television High-tech R&D Award. 
His major representative works include Amazing China, Wolf Totem, Beginning of the Great Revival, The Founding of a Republic, The Golden Era, Forever Young, White Deer Plain, City of Life and Death, and The Knot.